Home Decoration for Living Room: A Step-by-Step Guide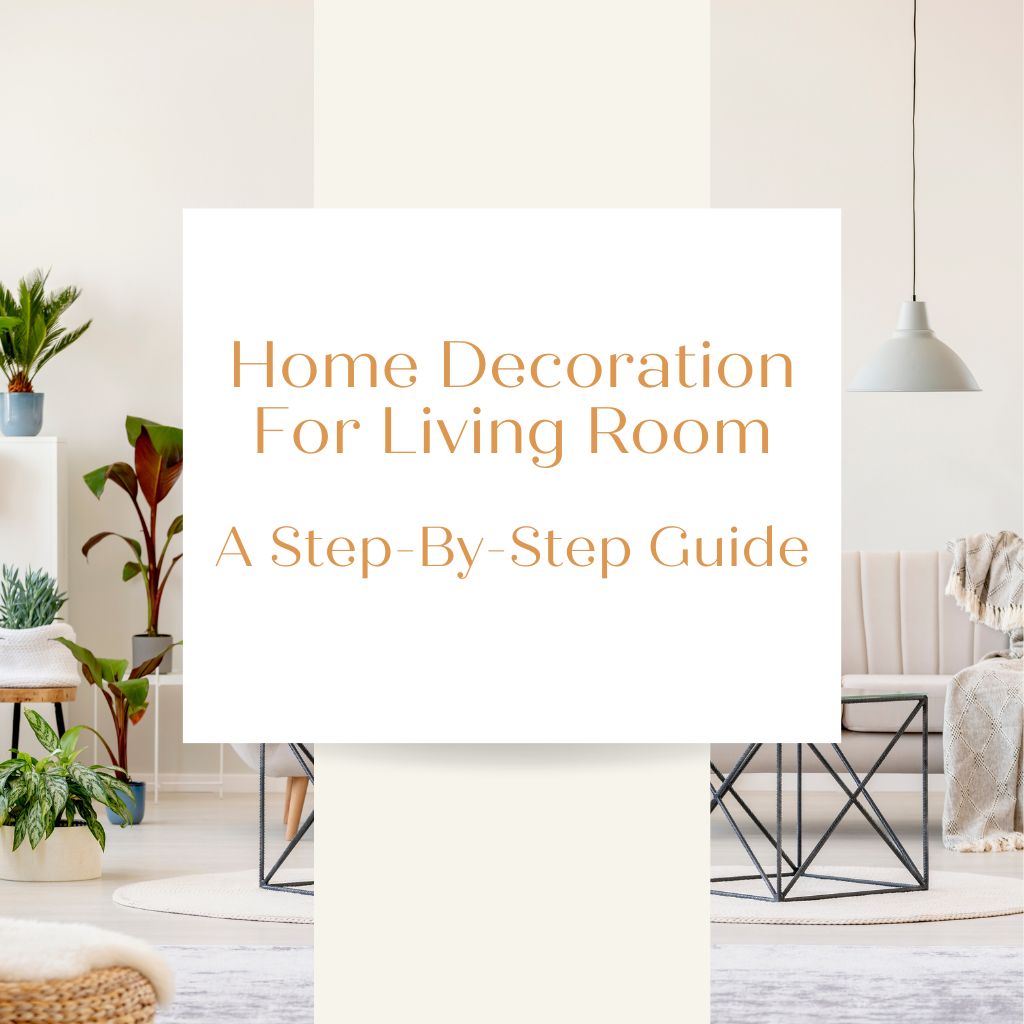 Do you become tired of your interior design? Do you wish to change the appearance of your living room? Don't let the concept go away; keep it fresh in your mind. You'll feel much better and be in a better mood in your choice's colorful and likable living space.

The living room is often the heart of the home, and it's important to make it feel comfortable and stylish. From furniture and lighting to accents and accessories, there are many ways to decorate your living room to reflect your personal style. In this blog, we will explore various home decoration for living room options and techniques to help you transform your living room into a space that you'll love.
The best way to your home decoration for living room ideas
Home Decoration Types
Types of Home Décor Traditional interior design includes timeless components like wood furniture, chandeliers, and elaborate rugs. Modern aspects, such as streamlined furniture, vibrant colors, and sparse ornamentation, are used in contemporary home décor. Clean lines, neutral hues, and a few ornamentations are characteristics of minimalist home decor. Home decor that is eclectic combines various designs, hues, and components.
Choose the Right Furniture:
Having the proper furniture items may completely transform the atmosphere of your living room. Pick out furniture that can serve multiple purposes while yet looking great. When furnishing your living room, think about how you normally spend your time there and the kinds of things you plan to accomplish there. Also, consider the size of your room when selecting furniture, as you want to make sure that the pieces fit well within the space.
Home decoration and furniture can be combined to create a comfortable and stylish living room, with furniture serving both functional and aesthetic purposes. Take into account the overall look you wish to achieve while choosing furnishings. While traditional or bohemian styles may call for more ornate and colorful objects, modern trends often call for clean lines and neutral colors. As you want your living room to be a place where you and your visitors can unwind and feel comfortable, you should also think about how comfy your furniture is.

Create a Focal Point:
Every home decoration for living room needs a focal point, whether it's a statement piece of furniture, an artwork, or a statement wall. This can help anchor the room and give it a sense of purpose. Consider creating a gallery wall with family photos, artwork, or other special items to add interest to the room. You can also create a focal point with an accent wall painted boldly or covered in an eye-catching pattern.

Add Layers of Lighting:
Home decoration with lights can greatly impact the mood and atmosphere of your living room. Consider adding multiple sources of light, including overhead lighting, table lamps, and floor lamps, to create a warm and inviting ambiance. You can also experiment with dimmer switches to control the brightness of the room or use task lighting to highlight specific areas of the room, such as reading nooks or workspaces.
Play with Textures and Patterns:
Incorporating different textures and patterns into your living room décor can add depth and interest to the space. Various soft furnishings, such as decorative pillows, blankets, curtains, and rugs, can be used to accentuate the room's textured decor. Consider using a mix of solids and patterns to create a harmonious look. Also, think about the room's color scheme and choose textures and patterns that complement each other.
Wall Decor:
The walls of your living room are a blank canvas that allows you to express your personal style and add a touch of character to the space.There are many options to choose the home decoration for living room from, including paintings, photographs, tapestries, and wall art. For a minimalist look, choose one or two large pieces of art that make a statement. Mix and match smaller pieces to create a gallery wall for a more eclectic feel. Consider the colors, style, and subject matter of your art when choosing pieces, as they should reflect your personal style and complement the room's overall décor.
Incorporate Greenery:
Plants and flowers not only add aesthetic value, but also assist clean the air in your home. Choose low-maintenance plants, such as succulents or ferns, if you're not great at keeping plants alive. Home decorations with flowers are an excellent way to add color, fragrance, and life to your living room. 
You can also add flowers in vases or pots to add a touch of nature to the room. Greenery can also help create a relaxing and peaceful atmosphere in the living room.
Accessorize with Art and Decorative Items:
Accessories, such as artwork and decorative items, can help bring the room together and add personality. Consider using a mix of different sizes and styles of artwork to create a gallery wall or add a statement piece of artwork to a prominent wall. You can also accessorize with decorative items, such as vases, candle holders, and picture frames, to add interest and texture to the room.
Consider Your Color Scheme:
The atmosphere and mood of your living room can be dramatically affected by the colors you choose for the walls. It's important to pick colors that go well together and convey your personal taste. To create a unique and personalized look, you can also experiment with different color combinations, such as a neutral base with pops of color. If you're unsure about the color of your home decoration for living room, you can start with a neutral color palette and add color through accessories, such as throw pillows or curtains.
Shop Around for Home Decor:
There are many options for shopping for home décor, including home decoration stores online, thrift stores, and local home goods stores. Shopping online can be convenient and give you access to a wider selection of products, but be sure to read reviews and check measurements before making a purchase. Home decor thrift stores can be a great place to find unique and vintage pieces, but be prepared to put in some time searching for the perfect item. Local home goods stores can offer a more hands-on shopping experience, allowing you to touch and feel the products before making a purchase. 

Get Inspired by Home Decor Trends:
Staying current with home décor trends can be a great way to keep your living room looking fresh and up-to-date. From boho-chic to minimalist, there are many different styles to choose from. Consider what style appeals to you and incorporates elements of that style into your living room décor. If you want to stand out from the crowd, though, don't be afraid to combine seemingly incompatible fashion elements.
Conclusion:
Home decoration for living room can be a fun and creative process, and with these home decoration ideas, you'll be able to create a space you love. From choosing the right furniture and incorporating greenery to adding layers of lighting and accessorizing with art and decorative items, there are many ways to transform your living room into a stylish and comfortable space. So go ahead and start experimenting with different home décor living room techniques to create the living room of your dreams!